LaserMax Rebate Offer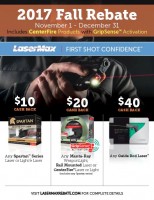 Save $10, $20 or $40 on LaserMax Lasers
This mail-in rebate offer is valid only with purchases between 11/01/2017 and 12/31/2017 on qualifying LaserMax products by an end user customer at any participating retailer. This offer does not apply to firearm factory-equipped LaserMax products. This offer does not apply to any products purchased from retailers participating in the "instant rebate". Submission must be postmarked by 2/28/2018 in order to qualify.
Check out these products from RaptoRazor!
Click here to see the products from RaptoRazor available at Vergona Outdoors!
Check out the newest Predator Tactics Coyote Reaper!
The Coyote Reaper™ "Rifle Edition" Kit by Predator Tactics™ is everything you need to get yourself out into the field with your rifle. This is the ideal set up if you are a looking for predator hunting lights or hog lights that will give you target identification up to 500 yards.
This specialized coyote light is equipped with a matte black finish patent pending design with an adjustable focus and the ability to easily switch out the color LED bulb module for changing the beam color on your predator light. The new Coyote Reaper™ features a 33% longer built in halo shield for knocking down the unwanted light splash as well as a 100% Silent Push Button Tail Cap & On/Off Remote Switch to help keep you from being detected while turning the light on and off.
The kit also includes an adjustable rail mount system that can be attached to your picatinny rail or a 1inch & 30mm scope tube. A 100% Silent Intensity Control On/Off Remote Switch is provided in the kit for easy on and off function for your Coyote Reaper™ night hunting light. A pair of rechargeable 18-650 lithium ion batteries and wall/vehicle charger set are also included in the kit. The Coyote Reaper can be ran off of one battery but the included battery extension tube allows for the use of both batteries for double burn time on this specialized coyote light. You'll be leaving your old predator hunting lights and hog lights at home after attaching the Coyote Reaper™ to your favorite rifle. So get on board with thousands of hunters that have proven a higher success rate in the field after making the Coyote Reaper™ their go to coyote light in their night hunting lights arsenal.
NEW Features to the Coyote Reaper™ Light:
Patent Pending Non-Slip Design
33% Longer Built In Halo Shield
100% Silent Push Button Tail Cap & On/Off Remote Switch
Intensity Control
Kit Includes:
-Coyote Reaper™ Adjustable Focus Light with 100% Silent Push Button Tail Cap
-4 Interchangeable LED Bulb Modules (GREEN, RED, AMBER & WHITE LEDs Included)
-100% Silent Intensity Control On/Off Remote Switch
-Battery Extension Tube
-5 Point Adjustable Rail Mount
-Scope Rail Mount (Fits 1 inch & 30mm scope tubes)
-Pair Rechargeable Batteries
-Wall/Vehicle Charger Set
-Hard Plastic Carry Case
Warranty:
Lifetime Unconditional Warranty on the Shell of the Light
5 Year Unconditional Warranty on the LED Bulb Module
1 Year Unconditional Warranty on the Accessories
It's time to start thinking about a new game camera!
Check out all the new trail cameras and new game camera products for 2016. At Vergona Outdoors LLC, we are always looking for new and innovative game camera products that are both functional and durable. Check out all of our reasonably priced cameras here!
Attention Bird Hunters!
Vergona Outdoors is now carrying Patternmaster choke tubes. They are proudly made in the USA in our home state of Pennsylvania! Check them out!
Attention Predator Hunters!
You need to check out the Coyote Reaper by Predator Tactics now available at Vergona Outdoors!
Moultrie New for 2016!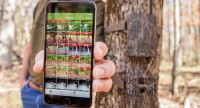 Moultrie has introduced Moultrie Mobile™, a technologically advanced trail camera system which will allow hunters to view images and control cameras remotely over the internet. Moultrie has partnered with the nation's leading cellular network for the best possible coverage, which will allow hunters to download hi-res images and manage their game whenever, wherever, and however they want.
The Moultrie Mobile system uses a field modem — which can be moved from camera to camera. The MV1 Field Modem is compatible with multiple models of Moultrie cameras at various price points, including most 2015 models sold over the past year. When images are captured, hunters can be notified through text, email or via the free Mobile App. The Moultrie Mobile website and mobile apps (IOS and Android) will offer the most robust photo management features available on the market, giving hunters the ability to organize, analyze and share their photo collections. Affordable monthly plans require no contract, no commitment, no activation fee, and no cancellation fees.
The MV1 Field Modem and new 2016 cameras (which will now have a 2 year manufacturer warranty) will be available at Vergona Outdoors very soon!
Zink Avian X Turkey Decoys Have Landed at Vergona Outdoors!
We are now stocking turkey decoys from Avian X. The Lifelike Collapsible Decoy (LCD) series from Zink Avian X are some of the most realistic and most effective turkey decoys on the market. These decoys feature incredible feather detail, and a realistic paint scheme that is truly unmatched. These decoys quickly deflate and fold down for easy transport or can be carried fully inflated in the included cotton decoy bag. The one piece collapsible stake allows the decoy to swivel in the slightest breeze for increased motion and features a fine sharpened tip for easy placement in hard or rocky ground. Check them out here!
Millennium Treestands Are Now Available!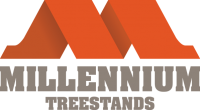 We are now stocking treestands from Millennium Treestands. Check them out here!
New Bushnell Cameras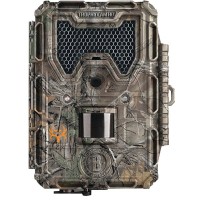 We just received a shipment of the new Bushnell game camera line-up including the 119736C, 119774C and 119775C! Check them out here!
Archery targets now available at Vergona Outdoors!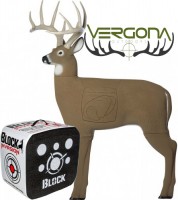 We are now stocking archery targets from Block, GlenDel and Shooter. Remember, we offer FREE shipping to your door within the continental United States.
Moultrie Cameras - Game Changers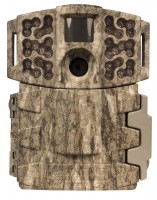 New Designs | Better Performance | Improved Images
Whether you're scouting on a budget or looking to buy the ultimate in tracking technology, Moultrie's line of cameras has your back. From the infrared models with basic setup, to iNVISIBLE 940nm infrared mini cams that will blend into the woods, to their Panoramic Series for unmatched coverage - Moultrie can help you take scouting to the next level.
Vergona Outdoors will be stocking the new for 2015 Moultrie M-990i Gen 2, Moultrie M-880i Gen 2, Moultrie M-880 Gen 2, Moultrie M-550 Gen 2, Moultrie A-7i and Moultrie A-5 Gen 2 models at the best prices.
Please Remember to Shop at Vergona Outdoors Online Black Friday through Cyber Monday!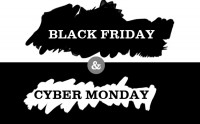 Please remember to do your online Christmas shopping with Vergona Outdoors Black Friday through Cyber Monday. As always, we are offering FREE shipping in the continental United States.
Introducing the NEW Excalibur Matrix Micro 335 Lite Stuff Crossbow Package!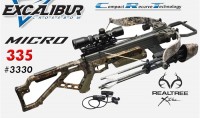 Excalibur Matrix Micro 335 Lite Stuff Vari-Zone Scope Crossbow Package
Model # 3330
Crossbow Specifications:
Draw Weight-270

Feet Per Second-335

Power Stroke-9.5"

Weight-6.0lbs

Lenght-32.5"

Uncocked Width-25"

Cocked Width-N/A

Minimum Arrow Weight-350 gr.


Camo-Realtree Xtra
Get yours at Vergona Outdoors now!
Time for Code Blue!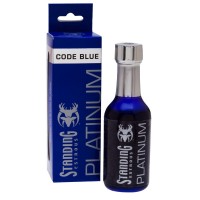 Tested to be 63% more effective on a buck's response, Platinum Standing Estrous, is the next generation of estrous.
Standing Estrous was the first breakthrough; Now, years of development at a leading animal research university, have resulted in an all-new technology: Platinum Standing Estrous. It's the next generation estrous -- tested and proven to be 63% more effective -- the highest buck response rate ever tested by Code Blue Scents.
Platinum Standing Estrous is unlike any other scent because it's collected at the precise time a buck tries to breed. She stands, he attempts to breed, we bottle it. Due to the unique process involved, this is a limited availability estrous, but if you're lucky enough to get a bottle, you'll have the most potent estrous available.
Have you seen TRUGLO's MICRO-TAC Tactical Micro Lasers?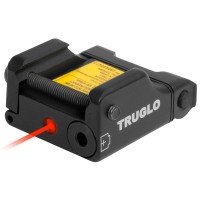 TRUGLO is introducing its new
Micro-Tac Tactical Micro-Laser Sight
in green or red. Using high efficiency semiconductor laser diodes, this system is allows for precision aiming and is perfect for concealed carry. The NEW TRUGLO® MICROTAC™ LASER SIGHT is extremely lightweight (less than 1oz). A universal fit allows the micro-laser sight to attach to any weapon that includes a Picatinny or Weaver-style rail and requires minimal rail space.
Universal Fit - Fits any weapon with a Picatinny or Weaver-style rail
Ultra-compact size is ideal for concealed carry
Next generation, high-efficiency semiconductor laser diode
Easy ambidextrous push-buton activation for left and right handed users
Extremely lightweight aluminum
Constant and pulse laser settings
Recessed on/off buttons eliminate accidental activation
Requires minimal rail space
Automatic shutdown after 5 minutes
Windage and elevation adjustment
Operating temperature: 14°F (-10°C) to 122°F (50°C)
Water and shock resistant
Durable/micro design
Weighs less than 1 oz.
Bonus: 2 sets of batteries included (LR626)
Instructions included
Two-Year Limited Warranty
Available in red and green
Tenzing Now Available at Vergona Outdoors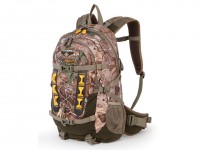 The Choice Backpack - Realtree Xtra Camo
Designed in conjunction with Ralph and Vickie Cianciarulo, The new Tenzing 1500 - The Choice may just be the ultimate stand pack. With as many cubic inches of space as its name, the 1500 was built to haul everything you need into the timber thanks to its 12 total compartments and pockets. And, thanks to its lightweight construction and new comfort stretch waist band that uses concealed elastic straps to adjust for the perfect fit, the TC 1500 is also as comfortable as it is functional. Like all packs in the Tenzing TC series, the 1500 features soft, silent Tricot fabric over the Dyneema Strength Panels to deaden noise while taking gear in and out. In addition, the pack comes standard with a side-mount quiver attachment which keeps arrows close at hand and extra weight off of your bow. Additional features include a fold out bow and gun boot and rain cover, compression straps, Internal Aluminum Frame Stay, H2O compatibility, padded hip panels and a breathable mesh back pad.
Features:
Weight: 3 lbs 4 oz

Dimensions Main Compartment: 20" x 12" x 5"

Dimensions Face Compartment: 17" x 9" x 2"


Capacity: 1500 cubic inches

Pockets & Compartments: 12

Rifle: Yes


Bow: Yes

Camo: Realtree Xtra

Get yours today at Vergona Outdoors for your next hunting trip!
Carbon Express Covert SLS 4X32 Scope Crossbow Package Available at Vergona Outdoors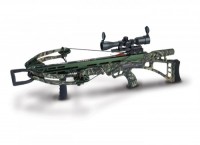 The Covert SLS includes a quick detach 3-arrow quiver, 3 Carbon Express exclusive Maxima Hunter® 20" crossbolts plus a deluxe lighted scope with red/green illuminations for varying light conditions. Rail lubricant, rope cocker and practice points are also included.

The new SLS is the heart of the Carbon Express Crossbow line, and with its high-performance compact design hunting will be easier because you will shoot better.

Specifications:

Draw Weight-185

Ft Pounds of Energy-119

Power Stroke-13"

Feet Per Second-355

Width: 17" Uncocked and 13.5" Cocked

Arrow Length-20"

Includes:

Crossbow

4x32 Lighted Scope

Quiver

(3) 20" Arrows

Rope Cocker
Check Out the All New Covert Rush Cam!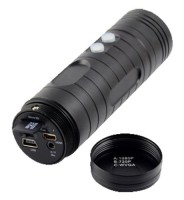 A quality waterproof camera with 1080P video! The Rush Cam's lightweight, sealed metal casting means you'll never worry about the elements again. It's a portable cam with all the innovative features that you would expect from Covert, plus a full array of accessories for mounting and more.
Features:
Waterproof sealed metal casting
1080P HD video with audio
Selectable 720P and WVGA modes
Shock Resistant
Rechargeable lithium-ion battery (up to 140 minutes of recording time)
5MP wide dynamic HD image sensor
Low illumination recording
Built-in mic with external mic support
Live video output capabilities
HDMI output, HD image playback on TV
16GB micro SD card included
11 accessories included for mounting and more!
Specs:
Dimensions: 4″ x 1.2″
Weight: 3.75oz
Video Format: MP4
View Angle: 60 degrees
Frame Rate: 1080P/30FPS or 720P/60FPS
Get yours at Vergona Outdoors now!
Bushnell The Truth Laser Rangefinder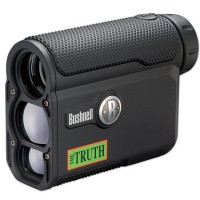 PRICE DROP! Vergona Outdoors now has the Bushnell The Truth laser rangefinder in stock. Bushnell is offering a $40 mail-in rebate on this item through the end of April.
Bushnell The Truth 4x20 W/ARC Bowhunter Laser Rangefinder
Model # 202342
Features:
ARC- Angle Range Compensation from -90 to +90 degree

Pocket-size ergonomic design

4x magnification

Bow Mode - provides true horizontal distance from 7-199 yards

Range: 7 - 850 yards (reflective), 7-200 yards (deer)

+/- One yard accuracy

Carrying case, 3-volt battery, and neck strap
The Next Generation of Stealth Cam Has Arrived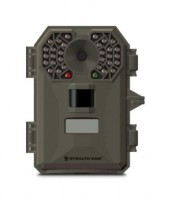 Stealth Cam has released their new G Series - Technology Advanced camera lineup. A favorite of ours that we saw at the SHOT show is the STC-G30. This is an 8.0 Megapixel camera that has 3 resolutions; 8.0mp/4.0mp/2.0mp, HD video recording for 5 - 180 seconds with audio, and time lapse with PIR override. This camera operates on 8 'AA' batteries or the 12V external (sold separately).
Vergona Outdoors Staff Visited the SHOT Show in Las Vegas Last Week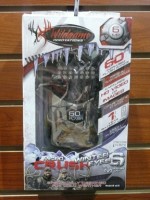 Some of our Vergona Outdoors staff visited the SHOT show in Las Vegas, NV last week. What an awesome and overwhelming show! We are excited about some of the new products that we saw there. For our blog, we would like to cover some of them each week. One of the first items we would like to mention is the new Wildgame Innovations Micro Crush Winter Eyes 6. This is going to be a great trail camera for those who wish to take pictures in the cold weather. It is a 6 mega pixel camera that will take HD video or images and runs on 8 AA batteries.
Featured Product - Browning Recon Force Series BTC-2 Trail Camera
For maximum performance in a trail camera, Browning's Recon Force is as good as it gets. The Recon Force cameras deliver incredible 8MP image resolution, plus provide the ability to capture HD video clips with sound. This camera also features an incredible 65+ foot IR illumination at night. The Recon Force camera series also features "Zero Blur" technology for the very best quality images, day or night. The Recon Force camera line is stacked with the best features in the industry.

Camera Features:
8MP HD videos with sound (5 sec.- 2 min. length) Camo finish Infrared LED illumination at night 65+ foot flash range Compact case size 5" x 4" x 2.5" Timelapse camera mode Less than 1 second trigger time Long battery life from 8 AA batteries (not included) Operates on 8 AA Alkaline batteries Takes up to 10,000 pictures on 1 set of Alkaline batteries Up to 8 multi Shot images Up to 6 Rapid Fire images 12 volt external power jack TV out and USB port Picture info bar displays: time, date, temperature, moon phase, camera ID Programmable picture delay (5 sec. – 60 min.) Support up to 32GB SD card (not included) Includes Browning Buck Watch Timelapse viewer software ¼" -20 tripod socket
Nikon's MONARCH Madness Instant Savings Promotion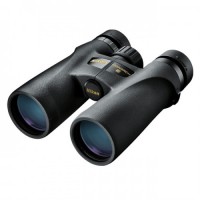 September 11, 2013 through November 17, 2013
Save $50 instantly on MONARCH 3 and MONARCH 5 and $100 on MONARCH 7 binoculars. (Savings is already applied to prices on the website.)