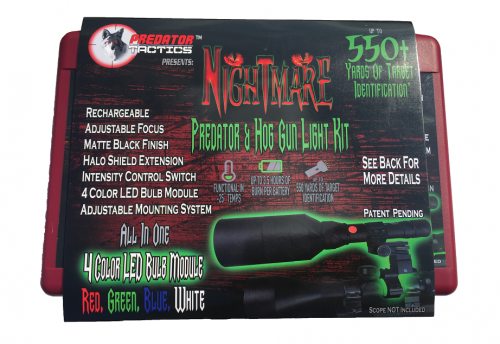 Predator Tactics Nightmare Light Kit with Red Green Blue & White LED
Model # 97430
Predator Tactics™ has revolutionized the night hunting industry with the patent pending Nightmare™ hunting lights.
The patent pending Nightmare™ by Predator Tactics™ is loaded up with game changing features that will help you to put more fur in the truck and pork in the freezer! This powerhouse will out perform any predator light and hog light on the market with is ability to adapt to any hunting situation with the all in one 4 color LED bulb module that fires out your color of choice at great distances down range letting you positively identify your target before you squeeze the trigger. The patent pending Nightmare™ by Predator Tactics™ has taken the predator hunting lights and hog hunting lights market to the next level!
Features:
Up To 500+ Yards Of Target Identification

4 Color LED Bulb Module

Intensity Control On/Off Switch

Rechargable

Adjustable Focus

Built-In Halo Shield

Removable Splash Killer Halo Shield Extension


Matte Black Finish

Switch Tail Cap

Rainproof

Adjustable Mounting System With Windage/Elevation

Mounts To Rails & Scopes


2 Rechargeable Batteries

Wall & Vehicle Charger

Plastic Case
Warranty:
Lifetime Unconditional Warranty on the Housing

5 Year Unconditional Warranty on the LED Bulb Module

1 Year Unconditional Warranty on the Accessories
*Animal identification depends on several variables. Moisture in the air, such as humidity, fog, mist, snow, and rain, will play a factor on how far the light will shine. Eyesight and the quality of optics should be considered as well.