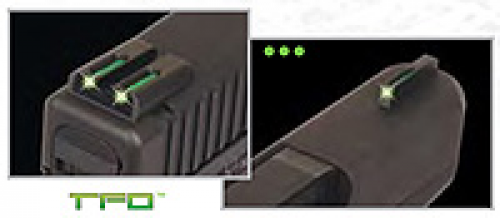 Truglo TFO Tritium Handgun Sight for Glock 17 19 22 23 26
Model # TG131GT1
Fits Glock Models:
17/17L, 19, 22, 23, 24, 26, 27, 33, 34 and 35
Green / Green

TFO gun sights use the same proven technology as our TFO archery pins. These sights are the most revolutionary innovation since TRUGLO, Inc. introduced fiber optics. TFO refers to our patented combination of Tritium and Fiber Optic technologies. The Tritium maintains the brightness level of the sight in low light (or NO light) conditions. That means you can see your sight even in complete darkness—with perfect transition through all light conditions. Tritium does not need batteries and does not need to be charged with light—it simply glows!
The ultimate handgun sight.

Uses our patented TFO technology.

Unbelievable transition through all light conditions.

Glows in the dark. Uses the brightest tritium available.

CNC machined steel construction.

Concealed fiber cannot be seen by target.

Fits standard holsters.


Snag-resistant design.
Professional installation recommended.
DISCLAIMER: "GLOCK" is a federally registered trademark of GLOCK, Inc. and is one of many trademarks owned by GLOCK, Inc. or GLOCK Ges.mbH. Neither Vergona Outdoors LLC nor this site are affiliated in any manner with, or otherwise endorsed by, GLOCK, Inc. or GLOCK Ges.mbH. The use of "GLOCK" on this page is merely to advertise the sale of GLOCK pistols, parts or components. For genuine GLOCK, Inc. and GLOCK Ges.mbH products and parts visit www.glock.com.